Précédent

Suivant
Du nouveau sur The Mook Of Love
24 juillet 2013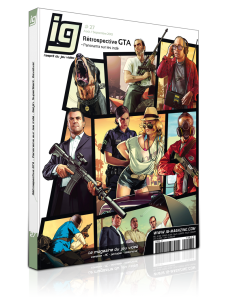 Depuis l'année dernière, je mets à jour (plus ou moins promptement je le reconnais) mon site The Mook Of Love (mookoflove.netsan.fr) qui permet faire des recherches dans le sommaire de différents magazines/mooks.
Malheureusement, IG Magazine, l'un des deux mooks qui m'a poussé à développer cet outil, connaît ses derniers jours. Le numéro 27 sortant cette semaine sera en effet le dernier. Malgré mes propos parfois un peu critique envers certains choix, je regrette de voir disparaître le plus complet, le plus original, bref, le plus meilleur magazine de jeux vidéo proposé en kiosque.
Ah peu près en même temps que l'annonce de la mort d'IG, un autre mook a fait irruption chez les bons revendeurs. Cette fois, il n'est pas (ou très peu) question de jeux vidéo mais de Cheesie Culture. En effet, les gars de chez Rockyrama nous parlent de leur amour pour les années 80 et particulièrement du cinéma de cette époque. Ils avaient déjà réalisé un gros livre l'année dernière et c'est grâce à leur site internet, lancé il y a quelques mois, que je les ai connu. C'est donc sous la forme d'un mook qu'ils reviendront plus régulièrement à présent. Je suis passé en coup de vent le 21 juin dernier à Lyon lors de la soirée de lancement du premier numéro.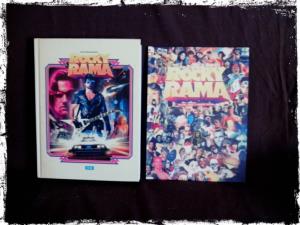 Et donc qui dit mook et articles de qualité sur des sujets pas forcément d'actualité (voire même carrément rétro), dit forcément Mook of Love ! J'ai donc décidé d'intégrer cette collection naissante au site, ce qui permet de l'ouvrir, comme c'était mon idée dès le départ, à d'autres univers que les jeux vidéo. D'autant que, hasard du calendrier, le dernier numéro de
Pix'n Love
contient un article sur
2080
, un artiste électro figurant aussi dans
le livre Rockyrama
ainsi que sur
Bastards Rendez-Vous
, le 45 tours accompagnant l'édition collector de ce livre.
Du coup, j'en ai profité pour apporter quelques modifications au site lui-même.
La première est l'ajout d'un nouveau menu déroulant dans l'entête pour lister les films et séries recensés dans les différents magazine. Il me faudra par la suite la mettre à jour avec les infos des précédents mooks. D'ailleurs, si quelqu'un est prêt à m'aider, ce ne serait pas de refus. Il est tout à fait possible que, dans un futur plus ou moins proche, j'ajoute d'autres menus pour la musique ou les livres cités dans les articles.
L'autre amélioration concerne la navigation qui était un peu lourde. Depuis la page d'un mook, il est maintenant possible de revenir sur la liste des mooks de cette collection ou d'aller directement sur le mook suivant ou précédent.

The Mook Of Love affiche donc à présent le sommaire de 68 ouvrages et compte bien continuer tant qu'il sera utile !
| | |
| --- | --- |
| Collection | Ouvrages |
| Console Syndrome | 1 Download |
| IG Magazine | 27 IG Magazine |
| IG Magazine | 7 Hors Séries |
| IG Magazine | 1 Livre |
| IG Magazine | 3 Numéro Spéciaux |
| Pix'n Love | 23 Pix'n Love |
| Pix'n Love | 4 Cahiers du Jeu Vidéo |
| Rockyrama | 1 Livre |
| Rockyrama | 1 Rockyrama |

Article originalement publié sur Gamusik le 24 juillet 2013

Précédent

Suivant