Précédent

Suivant
Historique
09 juillet 2015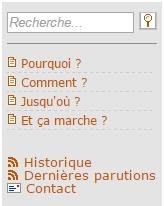 Si vous lisez ceci c'est que vous avez déjà trouvé la petite nouveauté : l'historique de Mook of Love.
Un peu à la manière d'un blog, j'ai mis en place et alimenté retrospectivement toutes les étapes marquantes depuis la création de Mook of Love, que ce soit les ajouts de nouveaux éditeurs ou les "citations dans la presse".
Je vous invite à vous abonner au flux RSS de ces articles pour ne rien rater de la vie de Mook of Love. D'ailleurs, saviez-vous qu'il y avait aussi un flux RSS pour suivre les nouvelles parutions ajoutées dans la base ? Tout se trouve dans le menu de gauche.
Cette nouvelle partie correspond aussi à une nouveauté technique car elle est développée en MVC, un design pattern de l'ASP.NET qui est encore assez nouveau pour moi. Mais bon, ça ne change rien pour vous...
L'été est là et la prochaine mise à jour verra l'arrivée d'un bon paquet de nouveaux livres pour vous occuper !

Précédent

Suivant