Précédent

Suivant
Console Syndrome > Third Editions
30 avril 2015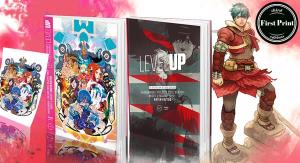 Depuis la création de Mook of Love, il n'y avait pas eu de nouveauté du côté de Console Syndrome. Et pour cause, Nicolas Courcier et Mehdi El Kanafi étaient partis travailler pour Pix'n Love, notamment sur des ouvrages sur Bioshock, Assassin's Creed ou Zelda. Mais maintenant qu'ils ont repris leur indépendance et créé Third Editions, les affaires repartent.
Comme pour les autres éditeurs, j'ai pris le parti de ne pas intégrer les sorties dont le contenu est centré sur un jeu, une série ou un créateur. Non pas parce que ce sont des livres plutôt que des mooks, mais bien parce qu'il est assez simple de savoir ce qu'ils contiennent. Ainsi, les biographies de Pix ou les livres sur Final Fantasy de Third ne seront pas ajoutés sur Mook of Love. En revanche, leur mook Level Up a toute sa place !
Etant donné que la section Console Syndrome ne comportait qu'un seul livre, qu'il n'y en aura pas d'autre et que ce sont les mêmes gens derrière, j'ai décidé de la fusionner avec le nouvel arrivant, sous le nom de Third Editions / Console Syndrome.
Je ne manquerai pas, bien sûr, d'ajouter les prochaines parutions "éligibles" le plus promptement possible.

Précédent

Suivant